Fix Yourself!
"Love the Lord your God with all your heart and with all your soul and with all your strength and with all your mind'; and, 'Love your neighbor as yourself." (Luke 10:27 & Levi 19:18) They call it the greatest commandment because our Lord summarized whole Bible within these two commandments which are inseparable like two sides of a coin. If you anyhow separate it, then it has no meaning at all. Because the creator gave these commandments to us in a package. Today we will try to understand the second commandment and leave the first for some other time.
            Learning shouldn't be painful or boring, though it is occasionally both. Being painful and boring itself is its best qualifying nature. And the primary responsibility vested with a learner is to raise questions and have reasons. So the question arises, if I am commanded to love my neighbor as myself, so do I need to love myself first in accordance to love my neighbor. And the Logic (not emotions; which should be the last things to trust on) says, "Absolutely Yes!" Without loving our self first, we cannot love others. Now, many of you immediately thought that he is telling us to be selfish and Christ taught us to live a sacrificial life. Let me clarify this. Of course, I am telling you to be selfish. That's the whole purpose of writing his article, to make known the virtue of selfishness (and of course there are vices, no one is denying that). Our God is a jealous God, He hates sin, He judges and so on. It does not mean jealousy, hatred and being judgmental is wrong. It's how do you use their virtues for yourself. Bible says, "Those who love God must hate sin," and at the same time, "Do not hate your brother." So it's not about hatred but it is about the 'subject'. Hating evil is good but hating brother is not. Loving self is good but loving yourself only is not.
            So when Jesus said, "Love your neighbor as yourself." What He means that you cannot love others if you don't love yourself. Otherwise why would He bother to use the words 'like yourself'. Or in the words of clinical psychologist Dr. Jordon Peterson (former professor of Harvard University and currently teaching in University of Toronto), "Treat yourself like someone you are responsible for helping." (You may watch his lectures 'The Psychological Significance of Biblical Stories' on YouTube) Many people misunderstand self-sacrifice. They think self-sacrifice is equivalent to self-ignoring. Self ignoring is the worst thing you can do to yourself and often people do it under the banner of sacrifice. If you don't ignore yourself, then you grow. And interestingly the more you have, the more pain you will get to sacrifice it. So we ignore our self and have nothing so that there won't be more pain while sacrificing. Living a holy life at young age is more difficult than in older stage of life. Giving tithe of 10,000 is easier than giving tithe of 50,000 rupees. 1,000 are less painful than giving 5,000 rupees. Or God can use even a fisherman, why bother to study?  And why bother growing? This is self-ignoring. This is what I say 'not loving our self'.
            The whole point of being selfish is "Growth." If you are not growing physically, mentally, financially and spiritually then you don't love yourself. Love your body and exercise daily, love your mind and read daily, love your earnings and save daily and invest monthly, love your soul/spirit and spent your time in God's presence daily through praying and meditating on His Word. Be selfish like apostle Paul. He used to discipline his flesh and habits so that he may not get lost while bringing others into the Kingdom.
            Discipline yourself. It is the building block for your growth. Discipline is the root for your success. Discipline is self imposed principle. Be a disciplined man and woman because it helps you to grow in whatever area you want to grow. And Growth makes you a person of value. Strive to make yourself a person of value, like Gold.
            Seek to become a person of value in a particular discipline. Become so good in an area that people may think about you whenever they discuss about that area. Do what you love, but most important, love what you do. Fix yourself. Fix your habits and develop yourself. God can raise you from the pit of darkness but He cannot raise you from your chair (if you decide not to).
            Get up and love yourself, so you may love others, earn more so you may give more, study more so you may share more and work hard as much as you can so that you may not regret in your life latter. Blaming others for your problems is a nonsense and complete waste of time. Other people are not the problem, you are the problem. It is not others or any external element obstructing or affecting your growth; it is you and your choices. Love yourself and make a commitment to grow intentionally. "Growth is the only guarantee that tomorrow is going to get better," says Dr. John Maxwell. Do you have a Personal Growth Plan for yourself? People assume that they will grow automatically. That's not going to happen believe me. Do not flirt with this idea. You have to take action for your growth. You have to be intentional for your growth. Love yourself first because you can't give something you don't have. It takes courage and it takes discipline to love ourselves. As one of the character in the movie 'Jupiter' said, "Time is the single most precious commodity in the universe." Therefore, be intentional and Fix Yourself.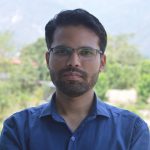 The author Vikas Parashar is part of the BSS team working as the finance officer in the Head office in Dehradun.